How much do the different physician specialties really make?
According to the National Physician Database released by CIHI (Canadian Institute for Health Information) for the 2013-2014 year, the average yearly gross fee-for-service earnings per Full-Time-Equivalent Physician in Canada are $328,640.
The lowest earning specialty is psychiatry at $255,794 and the highest earning specialty is Ophthalmology at $584,150. The gross payments per Family Medicine (GP) physician is $275,296.
Here is a graphic breakdown of how the different specialties earned (click to view original size):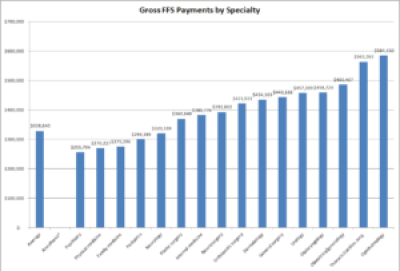 *anesthesia payments not tabulated in this study
It's important to remember that these numbers don't correlate to a doctors salary, they are running a business and have many expenses coming out of this total.
These expenses can include rent for a clinic location, office staff salaries, software systems, equipment and much more.